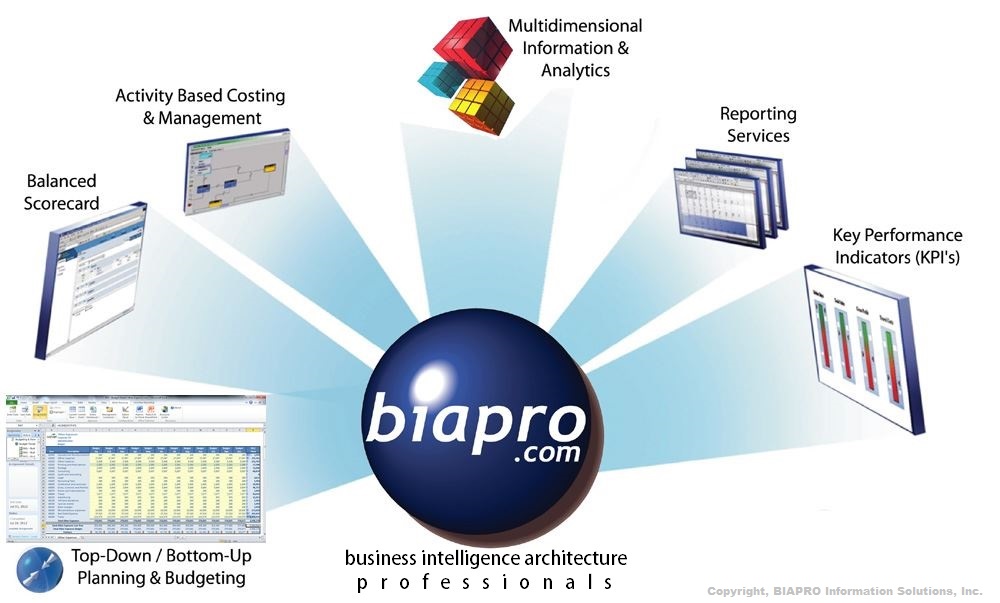 BIAPRO
®
is the epitome of business excellence, offering a comprehensive suite of solutions designed to propel your organization towards success. Our platform and select Open Source ERP/CRM and EMR systems are synonymous with innovation, empowering you with real-time data insights, predictive analytics, and precise decision-making tools. With
BIAPRO
®
, you'll experience unparalleled efficiency, as we streamline your operations, boost productivity, and enhance profitability. Our commitment to data security ensures that your sensitive information remains protected at all times, granting you peace of mind. Join the ranks of satisfied clients who have harnessed the transformative power of
BIAPRO
®
, and unlock the full potential of your business with us.
BIAPRO
®
 is your source for cost-effective, best-in-class, customizable Business Intelligence solutions, including:
BI365
®: Business Intelligence.  Everyday.
Design, Build, Implementation, Training and Support of BI, Budgeting and Forecasting solutions fully integrated with your Transactional (ERP/CRM) data systems
Advanced Forecasting and Predictive Analytics with Data Mining & Machine Learning
Data Quality Services & Master Data Services
Fast Close and Data and Process Optimization Projects for your CRM/ERP systems
Business Intelligence Road Maps: Getting key information to key resources
Best Practices in the Preparation and Review of Your Company's Budgeting, Forecasting and Planning Processes
Business Impact Analysis & Zero Based Budgeting: keys to focus resources that strengthen your core business and critical processes while enabling new projects & growth
Full 360 degree Business Intelligence Analytics Diagnostic (BIA)
PIVOT365™, ​OLAP, MOLAP Data Cubes, Reporting Services, SharePoint BI sites
Software Resale and Professional Services for Software from Solver Inc.
​
Please call us for additional information regarding our extraction and integration services that can build a solid, robust and self-sustaining 
Business Intelligence Platform that allows automatic updates, data cleansing, alerts, reports, OLAP Pivot Tables, KPI's, and many more features - all with integrated security and advanced information delivery methods to any device, anytime.
All of our solutions are mainly delivered using the latest Microsoft Technologies and Open Source Technologies that lower your Total Cost of Ownership (TCO) ensuring best-in-class solutions.